Product Description
Adult sized round tables and chairs available for any event. This package comes with 1 adult sized 5' round and 8 folding chairs.
30
2021-01-01T00:00:00+01:00
https://www.skyhighpartyrentals.com/houston/1-5ft-adult-round-table-8-white-chairs
Sky High has the adult sized round tables and chairs you need for any event. This combo package includes 1 adult sized 5ft round table and 8 white adult sized folding chairs. For your ease and convenience, Sky High also offers professional delivery and set-up right to your door. Let us add the final touches in accommodating your guests, so that you can have one less worry while you look forward to relaxing and enjoying your next event!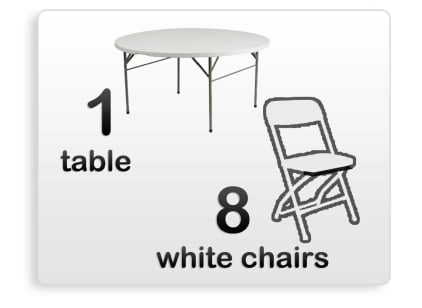 Sort by:

Thanks for everything. Great delivery crew especially--polite, helpful, flexible.
The white folding chairs were a bit dirty and scratched but other than that I am extremely pleased with delivery and pickup.
| | |
| --- | --- |
| 1-4 Hrs | $30 |
| 6 Hrs | $30 |
| Next Morning | $30 |
| 2 Days | $45 |
New

3 Days

| Mon-Thurs | Fri-Sun |
| --- | --- |
| $55 | $60 |

5 Days
$90
1 Week
$105
2 Weeks
$120