Additional Information
| | |
| --- | --- |
| Size | 12'L x 12'W x 13'H |
| Power | 1 Outlet(s) |
| Operators | 1 Adult Supervision Required |
| Setup | Indoor/Outdoor |
Features
•
Sports Theme
•
Soccer Style Moonwalk
•
Kick Soccer Balls and Jump
•
Fun for All Ages
•
Holds Up to 4 Kids
Product Description
The Soccer Moonwalk takes on the shape of a large black and white inflatable soccer ball, perfect for relaxing with teammates after a hard-played game or celebrating a season of victory. If you're looking for party ideas to take your soccer mom status to the next level, you've found a winner! This moonwalk is sure to get all the kids jumping with joy!
150
2021-01-01T00:00:00+01:00
https://www.skyhighpartyrentals.com/austin/soccer-bounce-house
Are your kids big soccer fans? Boy, are they going to get a kick out of this moonwalk! The Soccer Moonwalk takes the shape of the beautifully time-honored black and white soccer ball, perfect for relaxing with teammates after a hard-played game or for celebrating a season of victory! Climb up onto the green turf and enter the fantastic world of soccer. This bounce house is also great for birthday parties, school fairs, church festivals, or any sports themed event. Kids will love it, but there's no need for adults to watch from the sidelines -- its 12' x 12' bouncing area is great fun for all ages! The Austin FC have brought much attention to this growing sport and Sky High is very proud to offer this terrific party rental. Play on!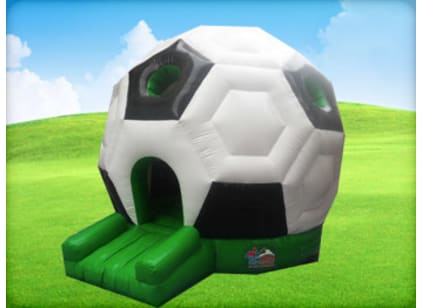 Sort by:

We were all very happy and the equipment was clean and they did a great job, setting up!!
Renting through Sky High was seamless and easy. Their products were top knotch. The delivery guys were on time, in fact a bit early. They set everything up quickly and showed my husband how to start the generator for our party later. The snow cone machine was great! It created very find, shaved ice and it was a big hit at the party. I highly recommend Sky High and will use them in the future. Thank you!!
| | |
| --- | --- |
| 1-4 Hrs | $150 |
| 6 Hrs | $160 |
| Next Morning | $185 |
| 2 Days | $225 |
New

3 Days

| Mon-Thurs | Fri-Sun |
| --- | --- |
| $210 | $250 |

5 Days
$340
1 Week
$415
2 Weeks
$525
Now Delivering Bounce Houses to Greater Austin & San Antonio, TX including: