Additional Information
| | |
| --- | --- |
| Size(L x W x H) | 19.5in x 2ft |
| Power | 1 Outlet(s) |
| Operators | 1 Adult Supervision Required |
Features
•
Supply bags produce over 6 oz. of popcorn each
•
Easy to Use
•
Includes 50 Servings
•
Additional Servings Upon Request
•
Birthday Party Favorite
•
Popcorn Supplies Brand: Megapop
Product Description
Popcorn is a tasty snack folks of all ages can't help but indulge in! Now delivering popcorn machines to Austin and San Antonio, TX. Book online today!
95
2021-01-01T00:00:00+01:00
https://www.skyhighpartyrentals.com/austin/popcorn-machine-rentals
Sky High offers clean, high quality popcorn machine rentals for all your party refreshment needs! With up to 50 servings per order, this buttery snack is great for festivals, carnivals, birthday parties, or movie night with friends. Add some extra flavor to your next party, compliments of Sky High Party Rentals. Now delivering popcorn machines to Austin and San Antonio, TX. Book online today!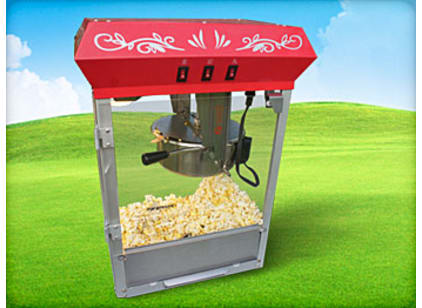 Sort by:

Items 1 to 10 of 14 total
per page
Page:
1
Very professional, friendly and patient!
by
Anita F. - Missouri City, TX
The people who delivered the items were very professional, very friendly and patient. Also the attendant, I believe his name was Hez for Hezekaiah. The gentleman that stayed with us was an great! He was very pleasant, patient, smiling at all times, greeted the people coming in to his area, was ready and willing to help all the children and people that walked up to his cotton candy and popcorn stand. It was an absolute treat having him there. I commend you for having such a great team please share this with those in authority over them whether it be the managers, the owners, etc. this is the kind of people that keep a company going strong and successful. Please also give your team that came out to Robinson Road this positive feedback. They need to know that they're doing an absolutely wonderful job. Maybe even a raise as an incentive to keep all motivated in doing what they do. Have a great day, we look forward to using Sky High Party Rentals again. Thank you!
Made the Impossible!
by
Jennifer S. - Bryan, Tx
I called to place an order for my son's birthday party which was the next day. I didn't think it would be possible cause I live 2 hours away but the representative on the phone made it happen and booked my party within minutes! The delivery drivers were very friendly and helpful and showed up early which was nice cause the kiddos got a little extra playtime! I look forward to booking my next party and highly recommend them to my family and friends! Thank you
Very attentive
by
Dorris A. - Houston, Tx.
Great Customer service, they are very attentive.
Excellent
by
Eona M. - Houston, TX.
Excellent as always!
Everything worked and was clean
by
Marlisa H. - Houston, TX
Husband and i rented tables and chairs, a snowcone machine, popcorn machine, also a moonwalk for our baby girls 3rd birthday. They delivery was great, they got to my house and set up before the party. The bounce house was very clean. Everything worked and was very clean. We will rent from them again
Sky High Party Rentals Forevr
by
Brooke M. - Houston,TX
This is my 1st Sky High Party Rentals experience with tables, chairs, concessions, etc.. I have ordered from Aztec in the past. I will NEVER order from them again. I will use SHPR forever!
Pop Corn!
by
Verna S. - Houston,TX
I would like to thank our attendant Ruben who was prompt, courteous, professional and knowledgeable of the equipment, and he a very pleasant attitude.
Great Job Sky High!
by
Stephanie M. - Houston,TX
The guys did a great job setting up and helping get everything ready. They really went above and beyond what was necessary. The helper did an excellent job - was very polite and helpful! Will definite recommend and use again!!
Pop Corn Machine Rental
by
Opera In the Heights - Houston,TX
The machine worked out great for our event. I will most definitely use this company again for future rentals. Thanks, Tarlisha Johnson Opera in the Heights
Awesome
by
Ronda M. - Houston,TX
Everything was Awesome. I really appreciate your service and will def use again and recommend to others. Thank you very very much.
Now Delivering Party Rentals to Greater Austin & San Antonio, TX including: