Additional Information
| | |
| --- | --- |
| Size(L x W x H) | 3' X 2' X 11'' |
| Setup | Indoor/Outdoor |
Features
•
2 Play Boards and 8 Bean Bags(4 for each side)
•
Good for Any Event
•
Waterproof Design
•
Good for All Ages
Product Description
This All American classic is sure be a fitting addition to any event! Our premium cornhole set comes with 2 play boards and 8 bean bags, and its waterproof design and convenient packaging means that no matter where you are, it'll be easy to get the competition going! Dream big, and build your next party up to its full potential with this Sky High's new deluxe party games! Now delivering Corn Hole bean bag toss games like this and more to Austin & San Antonio, Texas.
55
2021-01-01T00:00:00+01:00
https://www.skyhighpartyrentals.com/austin/cornhole-toss
Sky High's new waterproof cornhole set is the perfect addition to any event, indoors or outdoors! The set includes two boards and eight durable bean bags. The boards are made of high-quality materials that are resistant to water, sun, and other elements. The bean bags are filled with a moisture-resistant material that will not absorb water or shrink. With its durable construction and waterproof design, Sky High's cornhole set is the perfect way to add a touch of fun and competition to any event. Order your set today and start enjoying the game that's been a favorite for generations! Now delivering Corn Hole bean bag toss games like this and more to Austin & San Antonio, Texas. RULES & REGULATIONS: 1.) Boards are to be 27ft feet apart from each other, front to front. The distance can be shortened for smaller/younger players. 2.) Flip a coin to see who goes first. 3.) It can be a one-on-one competition or it can (and usually is) be played as a 2-on-2 team type of game. 4.) Players stand next to each other on either side of the board and across from the other board.(and their teammates if playing a 2 person team game) The "foul line" is considered to be at the very edge of the front of the board for each player. 5.) Players alternate their turns with each throw. 1 point for landing on the board, 3 points for getting the bag in the hole, and 0 points for landing off the board or if the bag bounces off the ground onto the board. This is the basic point taking system. You can tally the points after completing a round.(throwing from both boards) The first to 21, WINS!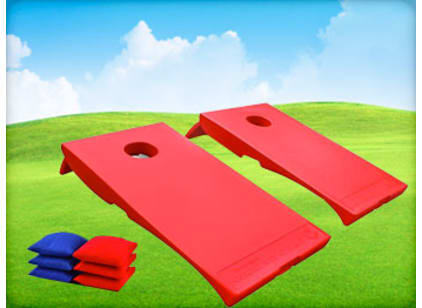 Sort by:

I love Sky High!
by
Tavia G. - Houston, TX
I love skyhigh i been using them for about 5yrs & i can honestly say im never not satisfied thank you guys so much & continue blessing us customers with great service & great quality
Flexible and easy
by
Carly M. - Mount Belvieu, TX.
Flexible pickup/drop off times were great. Makes you feel like you get to rent it a little longer. Easy to unplug when not in use. Staff and crew were very fast and polite. Easy to contact when needed.
Truly enjoyable
by
Chrystal D. - Houston, Tx.
Our group truly enjoyed the carnival games (it was a great idea) for our indoor party. Equipment was delivered and setup on time and appreciate the follow-up by the SkyHigh representatives.
Met our needs
by
Andrew L. - Houston, Tx.
The team was great. They showed up on time to set up and break down. Thank you for being professional and very engaged to make sure that our needs where fulfilled.
Great job
by
Suzanne T. - Houston, TX.
You all do a great job!!
Everything enjoyable
by
Noureliza A.M. - Katy, TX.
I appreciated the punctuality and friendliness of the delivery guys. For Sky High itself, it would be nice if there was an option for me to order only what I needed. I only needed a snow cone machine and had to end up renting a corn hole as well to make the minimum amount to have them deliver. We are non-profit and were on a tight budget so that was an inconvenience. Besides that, everything else was enjoyable and I would rent with Sky High again.
A+ Service
by
Rodrigo D. - Spring, TX
Excellent service all around! A+++++++++++++!
Nice Service
by
Anna W. - Houston, TX
You have a very impressive operation.
| | |
| --- | --- |
| 1-4 Hrs | $55 |
| 6 Hrs | $55 |
| Next Morning | $55 |
| 2 Days | $85.5 |
New

3 Days

| Mon-Thurs | Fri-Sun |
| --- | --- |
| $100.25 | $110 |

5 Days
$155.25
1 Week
$180.75
2 Weeks
$210.25
We deliver Sports Interactives to Austin & San Antonio, TX including: