Additional Information
| | |
| --- | --- |
| Size(L x W x H) | 18'L x 18'W x 10'H |
| Power | 2 Outlet(s) |
| Operators | 1 Included to Work Controls |
| Setup | Indoor/Outdoor |
Features
•
30 Riders Per Hour
•
Must be 4ft & Over
•
Must Be Under 300lbs
•
No Pre-existing Injuries
•
Must Not Be Intoxicated
•
18+ or Have Gaurdian Consent
•
Sign Waiver of Liability
Product Description
The Mechanical Shark is a hilarious spin on the classic mechanical bull ride. This ride functions just like a mechanical bull with the same speed and difficulty. An inflatable platform surrounds the shark for a safe landing. Are you ready to brave a ride on the crazy Mechanical Shark? Now delivering mechanical sharks to Austin and San Antonio, TX events.
895
2021-01-01T00:00:00+01:00
https://www.skyhighpartyrentals.com/austin/ride-a-mechanical-shark
The Mechanical Shark is a cool, aquatic spin on the renowned mechanical bull ride. Your friends will have a blast taking a ride on this wild great white shark! Any fallen rider will enjoy a bouncy landing experience on the soft inflatable platform. An experienced attendant will also be provided to operate the ride, ensuring your guests' safety. This crazy shark is an endless source of entertainment and a crowd favorite at any event! Perfect for loosening up at business promotional events, family reunions, home parties, and more. See just how high the mechanical shark can throw your party. Now delivering mechanical sharks to Austin and San Antonio, TX events.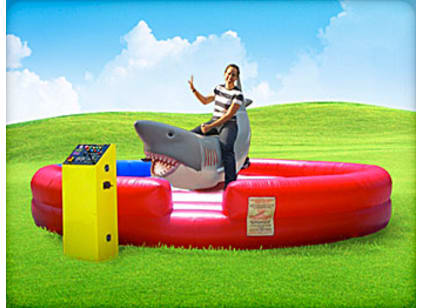 Sort by:

Excellent!
by
Toni Y. - Cypress, Tx.
Excellent & EASY once again!!! CJ was great! The kids loved him!! Will recommend & only use Sky High in the future!! Nice to know you rent tables & chairs too! Thanks again for a great experience!!
The mechanical shark was a big hit!
by
Johanna M. - Houston, Texas
The mechanical shark was a big hit! The operators were very professional and friendly. They interacted with the crowd and did exactly the speed that parents were requesting. The operator were so great they would give extra time to little ones and explained the options to ride when necessary. We loved renting with SkyHigh!! We will most definitely rent with SkyHigh again!
Great Experience!
by
Kelly K. - Sugarland, TX
The equipment was great-the kids loved it! The delivery/attendants were great! They were so friendly, accommodating and flexible. We had trouble with one of the inflatable's placement, and they worked it all out. We are definitely recommending Sky High to next year's party planners!
| | |
| --- | --- |
| 1 Hr | $895 |
| 2 Hr | $895 |
| 3 Hr | $1,045 |
| 4 Hr | $1,195 |
| 5 Hr | $1,345 |
| 6 Hr | $1,495 |
| 7 Hr | $1,645 |
| | |
| --- | --- |
| 8 Hr | $1,745 |
| 9 Hr | $1,845 |
| 10 Hr | $1,945 |
| 11 Hr | $2,045 |
| Next Morning | $2,345 |
| 2 Days | $2,595 |
| 3 Days | $3,595 |
We deliver Sports Interactives to Austin & San Antonio, TX including: