Additional Information
| | |
| --- | --- |
| Size(L x W x H) | 30'L X 17'W X 9'H |
| Power | 1 Outlet(s) |
| Operators | 1 Adult Supervision Required |
| Setup | Indoor/Outdoor |
Features
•
2-in-1 Interactive Bounce House
•
Fun for Kids and Adults
•
Popular at Schools
•
Perfect Indoors
•
Great for Large Events
Product Description
The Bungee Run & Joust Combo is an excellent outdoor entertainment option for both kids and adults! Challenge a competitor to the Bungee Run: strap on your bungee cord vest and run as fast as you can toward the finish line! When players lose momentum, they're zipped back into an inflatable wall. These engaging games are sure to have your guests roaring with laughter! Now delivering bungee run and joust rentals like this one to Austin and San Antonio, TX
575
2021-01-01T00:00:00+01:00
https://www.skyhighpartyrentals.com/austin/joust-and-bungee-run-combo
The Bungee Run and Joust Combo is a great outdoor entertainment option for both kids and adults. The Bungee Run is a hilarious challenge. Two competitors will strap on a vest connected to a bungee cord, then run as fast as they can to see who can reach the finish line first! When the players lose momentum, they are zipped back into an inflatable wall. Grab those joust sticks next, switching between bungee running and jousting is easy! Two players go head to head standing on a small elevated platform. Each player is given a padded staff that they use to knock their competitor off the pedestal onto the bounce house floor. These engaging, competitive games are sure to have your guests roaring with laughter! Now delivering bungee run and joust rentals like this one to Austin and San Antonio, TX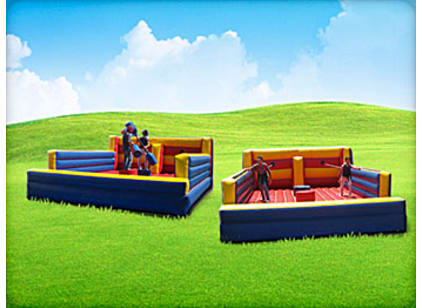 Sort by:

Service is always great.
by
Allison Goatley - Spring, TX
We have used SHPR several times. Prices are hard to beat and service is always great.
Polite and friendly
by
Paul Lindsey - Conroe, TX
The two men that delivered our slide were on time and clearly knew what they were doing. They assembled the equipment rapidly and were careful to place it where I wanted it. The pick up was just as efficient. They were polite and friendly and very competent!
| | |
| --- | --- |
| 1-4 Hrs | $575 |
| 6 Hrs | $600 |
| Next Morning | $625 |
| 2 Days | $805 |
New

3 Days

| Mon-Thurs | Fri-Sun |
| --- | --- |
| $805 | $920 |

5 Days
$1,125
1 Week
$1,295
2 Weeks
$1,585
We deliver Sports Interactives to Austin & San Antonio, TX including: