Features
•
Pink cotton candy floss
•
Makes up to 50 cones
•
Served in plastic bottle
•
Perfect for anytime of year
Product Description
Need additional cotton candy supplies? Upgrade your cotton candy machine rental with this supplies package. Includes the flavor strawberry and paper cones. Make sure you have enough of this delicious treat to go around -- we wouldn't want anyone left out!
25
2021-01-01T00:00:00+01:00
https://www.skyhighpartyrentals.com/austin/cotton-candy-supply-store
Renting our cotton candy machine for your next event? Make sure you have enough to go around! While the cotton candy machine rental comes with supplies for up to 50 cotton candy servings, this confectionery treat is always popular. So, if you think you may need extra, we have you covered. Order extra sugar and cones, offered in increments of 50 servings. Choose 50 additional servings of strawberry. We wouldn't want anyone to go away hungry!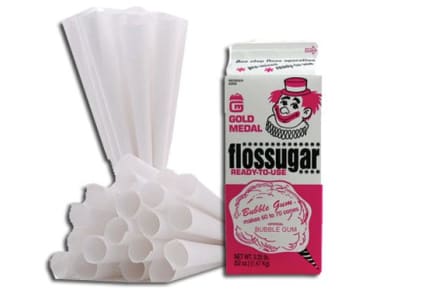 Sort by:

Experience was great!
by
Arthur R. - Katy, TX
Experience was great! Thank you. We were very satisfied.
It was great!!!!!
by
Tristan B. - Houston, TX
It was great!!!!! Thank you all for your service!
Now Delivering Party Rentals to Greater Austin & San Antonio, TX including: