Additional Information
| | |
| --- | --- |
| Size(L x W x H) | 12'L x 12'W x 12'H |
| Power | 1 Outlet(s) |
| Operators | 1 Adult Supervision Required |
| Setup | Indoor/Outdoor |
Features
•
Recommended for small get-togethers with family or friends.
•
Military Themed perfect for army birthday parties and returning service member celebrations.
•
Fun for Ages 3 to 8.
•
Holds Up to 5 children, or 3 teenagers.
•
View More Camo Bounce House Themed Party Rentals
Product Description
What kid doesn't dream of riding in a military tank? Here is a unique moonwalk that will bring one right into their backyard! This big green bounce house features America's symbolic red, white, and blue stripes and patriotic stars -- perfect for your July 4th or Memorial Day celebrations! It will certainly make its mark at any kid's event, as they bounce the day away in their favorite army green vehicle.
185
2021-01-01T00:00:00+01:00
https://www.skyhighpartyrentals.com/austin/tank-bounce-house
Whether your child loves to play with the little green army men or has graduated to video games like Call of Duty, they will love this big green moonwalk the same! The Tank Moonwalk is a big green inflatable bounce house shaped just like the big front-line army vehicles known for their impressive power and speed. Your party guests will go wild over it! Featuring America's symbolic red, white, and blue stripes and patriotic stars, this moonwalk is the perfect entertainment for July 4th and Memorial Day celebrations. It is also a huge hit at birthday parties and other kid's events. Keep them happily engaged as they bounce their way to exhaustion! This giant tank will definitely leave it's mark on your party, to be remembered for years to come.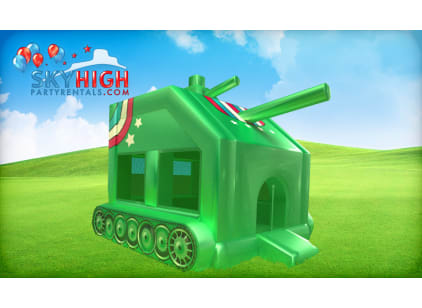 Sort by:

Exceptional!
by
Doris G. - Houston, TX
I've used your service multiple times in the past and it is always exceptional.
Great Service!
by
Michelle S. - Houston, TX
Great service and communication. Will definitely rent from Sky High again.
On point!
by
Alec A. - Houston, TX
Moonwalk was on point and them young hustlers were at my door at 6:45 AM for delivery! Definitely worth the money.
Kindness and courtesy galore
by
Dana B. - La Port,e TX.
The two men who delivered and set up were wonderful! There are too many things in life worse than dealing with a grandma and her party planning. They had kindness and courtesy galore and made me one happy lady. Thank you so much!
Happy Customer
by
Debra K. - A TX Customer
No problems, happy with everything. Thanks for being so dependable!
So Awesome!
by
Priscilla R. - Houston, TX
Great customer service, easy to book and pay...delivery and pick up was just as promised! My little soldier and his buddies loved the tank!
Awesome!
by
Steven S. - Humble, TX
I found Sky High on the internet and called and every thing was Awesome. I was very happy with the service. Thank you so much!
| | |
| --- | --- |
| 1-4 Hrs | $185 |
| 6 Hrs | $195 |
| Next Morning | $220 |
| 2 Days | $280.5 |
New

3 Days

| Mon-Thurs | Fri-Sun |
| --- | --- |
| $260 | $305.25 |

5 Days
$420.25
1 Week
$510.75
2 Weeks
$650.5
Now Delivering Bounce Houses to Greater Austin & San Antonio, TX including: