Features
•
Excellent Customer Service
•
Punctual Delivery
•
Dry Ice Machine
•
Nimbus Cart
•
30 Pounds of Dry Ice
•
Up to 7 minutes of performance
•
Set Up & Break Down
Product Description
"Dancing on a cloud" is a low-lying dry ice effect that can be used for your First Dance, Waltz or Father-Daughter Dance for your Wedding, Sweet 16 or Quinceañera
595
2021-01-01T00:00:00+01:00
https://www.skyhighpartyrentals.com/austin/dancing-on-the-clouds
"Dancing on a cloud" is a low-lying dry ice effect that can be used for your First Dance, Waltz or Father-Daughter Dance for your Wedding, Sweet 16 or Quinceañera. This gives off the illusion that you and your loved one are dancing upon a cloud. Our dancing on the clouds ewill bring out the WOW factor for all your guests at your event and look even better on photos.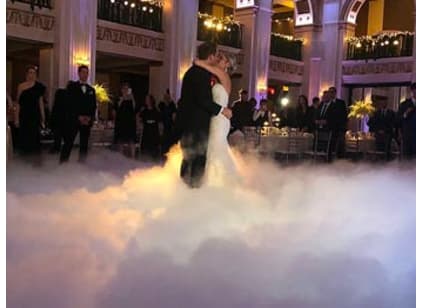 Sort by:

The Right Choice
by
Katen M.
So glad I went with Sky High Party Rentals! Easy back and forth communication, Aaron was on-time, and you 100% get your money's worth of talent and entertainment! My favorite part was the cloud effect, the crowd had a blast! No complaints from anyone. Definitely will be who I use for any future event. If you need a DJ for anything, go with Sky High!! It's the right choice.
The Absolute Best
by
Jocelyn M.
Aaron is the BEST DJ a person could've ever asked for! He is professional and was able to respond all of my questions in a timely manner. We had SO much fun at our wedding and would like to thank him and his team for providing us with such great music and getting everyone on their dancing feet!!! My husband and I are extremely happy with our experience and look forward to doing business with Sky High Party Rentals in the future!
Aaron was nothing short of amazing. He made our wedding feel like it was a huge party! Which was exactly what we wanted! Not once did I feel like he wasn't listening to what we wanted and man did he deliver!! 10/10 recommend! He is trustworthy, hard working, and down right talented! The effects were all so cool, everyone loved how romantic the cloud was. I can't say thank you enough for making our big day come to life.

All the best,
The Lott Family
Aaron did an awesome job for our daughters Quinceanera! She and her friends stayed on the dance floor most of the night! I would definitely recommend him for your next event. The dance floor looked amazing with the cloud effect. Thanks, Aaron!
Loved It For My Wedding!
by
Austin H. - Conroe,TX
At first I was skeptical about purchasing the dancing on the clouds cause of the price but after seeing the look on my wife's face when we were dancing and how great the photos came out. It was worth every penny.