Winners of the United Nations Empact 100 Award, Sky High Party Rentals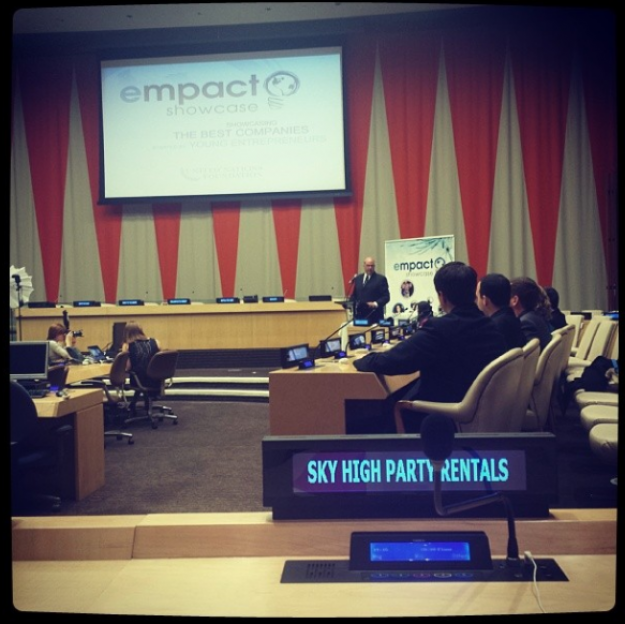 Sky High Party Rentals from Houston, Texas is honored to be included in Prestigious Empact Showcase and recognized at United Nations

Founder Robert De Los Santos is among the United States' "Largest Showcase of Best Companies Started by Young Entrepreneurs"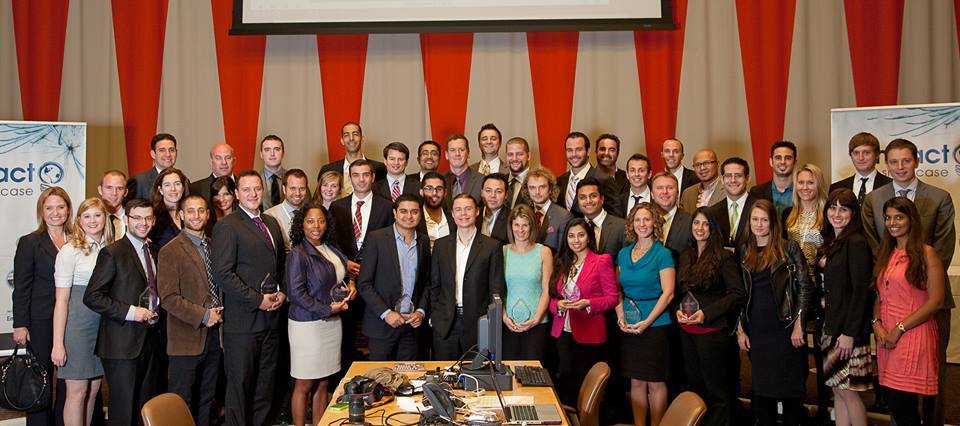 Houston, Texas, Nov. 1, 2013 – Sky High Party Rentals, today announced that it has been named to the 2013 Empact Showcase by Empact, an organization that focuses on creating cultures of entrepreneurship in communities around the world.
Now in its third year, the Empact Showcase recognized Robert De Los Santos as being among the United States' "Best Companies Started & Run by Young Entrepreneurs".
"I am honored to attend the showcase at the United Nations with other Empact Showcase members around the U.S. My company has been through a lot to get here and I am very excited where we are headed." – CEO Robert De Los Santos
The Empact Showcase is a compilation companies in the United States started by entrepreneurs who are age 35 and under, and whose annual revenues or operating budgets (for non-profits) are more than $100,000. In 2012, the companies comprising the Empact Showcase contributed more than 8,500 jobs to the economy, and controlled over $1.3 billion in revenue.
Founders in the Empact Showcase were recognized for their achievements at the United Nations Headquarters in New York City in October.
The host of the 2013 Empact Showcase is the United Nations Foundation. American Airlines is the official airline and Entrepreneur Media is the official media partner.
"The annual Empact Showcase is both a testament to the impact that entrepreneurs are making on our economy, and an inspiration to aspiring entrepreneurs," said Sarah Green, Co-Founder, Empact Showcase. "We are proud of all of the entrepreneurs on the 2013 Empact Showcase and pleased to support them by celebrating the spirit, dedication and hard work that has made them successful entrepreneurs."
About Sky High Party Rentals
Sky High Party Rentals provides high-quality specialty moonwalks for children's and adults' parties. The company currently offers many specialty moonwalks and has seen revenue climb by 40 to 60% every year since its beginning in 2006. Most importantly for the Houston economy, Sky High Party Rentals employs over 40 people who work in sales, delivery, and customer service positions.
After only seven years in business, Sky High Party Rentals already books more than 5,000 parties a year, offering both moonwalk (moon bounce) rentals and inflatable water slide rentals. Currently, the company serves Houston and surrounding communities, including Kingwood, Sugar Land, The Woodlands, Katy, Spring, Tomball, Clear Lake, Baytown, Pasadena and Deer Park. Schools, churches, and kids' birthday parties are specialties of Sky High Party Rentals.
About Robert De Los Santos
Robert founded the company when he was a college student at the University of Houston. After realizing his love for business, Robert joined the university's Wolff Center for Entrepreneurship, where he first learned the basic skills needed to run his company. It was while studying business that Robert came to recognize a desire to grow his business into a successful company that would have a positive impact on people's lives and the local Houston economy.
Robert has also committed himself to finding innovative ways to help the Houston local economy by serving as a U.S. delegate at the G-20 Young Entrepreneur Summit. The G-20, attended by U.S. President Barack Obama and leaders of the 20 largest global economies, serves as an international forum for national and international economic issues. As delegate, Robert was able to collaborate with international young entrepreneurs to develop innovative ways of boosting local economies, which in turn helps the larger national economy.
About the Empact Showcase
In early 2013, entrepreneurs meeting the minimum criteria from across the country were invited by Empact to apply for the Empact Showcase.
Applications were then reviewed by the 2013 Empact Academy who are among the United States' leading entrepreneurs, and include:
· Kay Koplovitz, USA & ScyFy Channel
·Tony Hsieh, CEO, Zappos
·Gene Landrum, Founder, Chuck E. Cheese
·Jeff Hoffman, Priceline.com
·Jeff Sandefer, Founder, Action Foundation
·Chip Paucek, Founder, Hooked on Phonics
·Mike Delazzer, Founder, Redbox
·Chuck Templeton, Founder, Open Table
The Academy selected honorees in several categories including:
·Empact100 – Top 100 companies
·Best Founder's Story
·Most Innovative
·Most Disruptive
·Largest Potential
·Top Social Company
·Top Female Founder
·Top Tech Company
·Top Advertising & Marketing Company
The honorees were selected based on company revenue, with additional factors such as number of employees, social impact, growth over the past year, and innovativeness coming into play.
For more information on the Empact Showcase, visit http://www.empactshowcase.com, or connect with Empact via Facebook at www.facebook.com/iEmpact or Twitter at www.twitter.com/iEmpact. Please direct any questions to Empact Showcase co-founder, Sarah Green, at team@iempact.com
About Empact
Formally known as Extreme Entrepreneurship Education, Empact aims to facilitate a culture of entrepreneurship in communities around the world by exposing young people to entrepreneurship, supporting early stage entrepreneurs and celebrating the vital role young entrepreneurs play in our economy. Empact has worked with over 500 colleges & universities, workforce development organizations, Chambers of Commerce, and Small Business Development Centers to help promote entrepreneurship among aspiring entrepreneurs.
Learn more at this Huffington Post Coverage

About United Nations Foundation
The United Nations Foundation builds public-private partnerships to address the world's most pressing problems, and broadens support for the UnitedNations through advocacy and public outreach. Through innovative campaigns and initiatives, the Foundation connects people, ideas, and resources to help the UN solve global problems. The Foundation was created in 1998 as a U.S. public charity by entrepreneur and philanthropist Ted Turner and now is supported by global corporations, foundations, governments, and individuals.
Learn more at http://www.unfoundation.org.
About Entrepreneur Media
Young Entrepreneur is committed to chronicling the ups and downs of young entrepreneurs and startup founders, and serving as a resource for solid information and insights. Founded in 1999, YoungEntrepreneur.com has become one of the largest online forum communities for entrepreneurs worldwide.
Learn more at http://www.entrepreneur.com
« Back