7 Water Slides That Will Turn Your Backyard Into A Water Park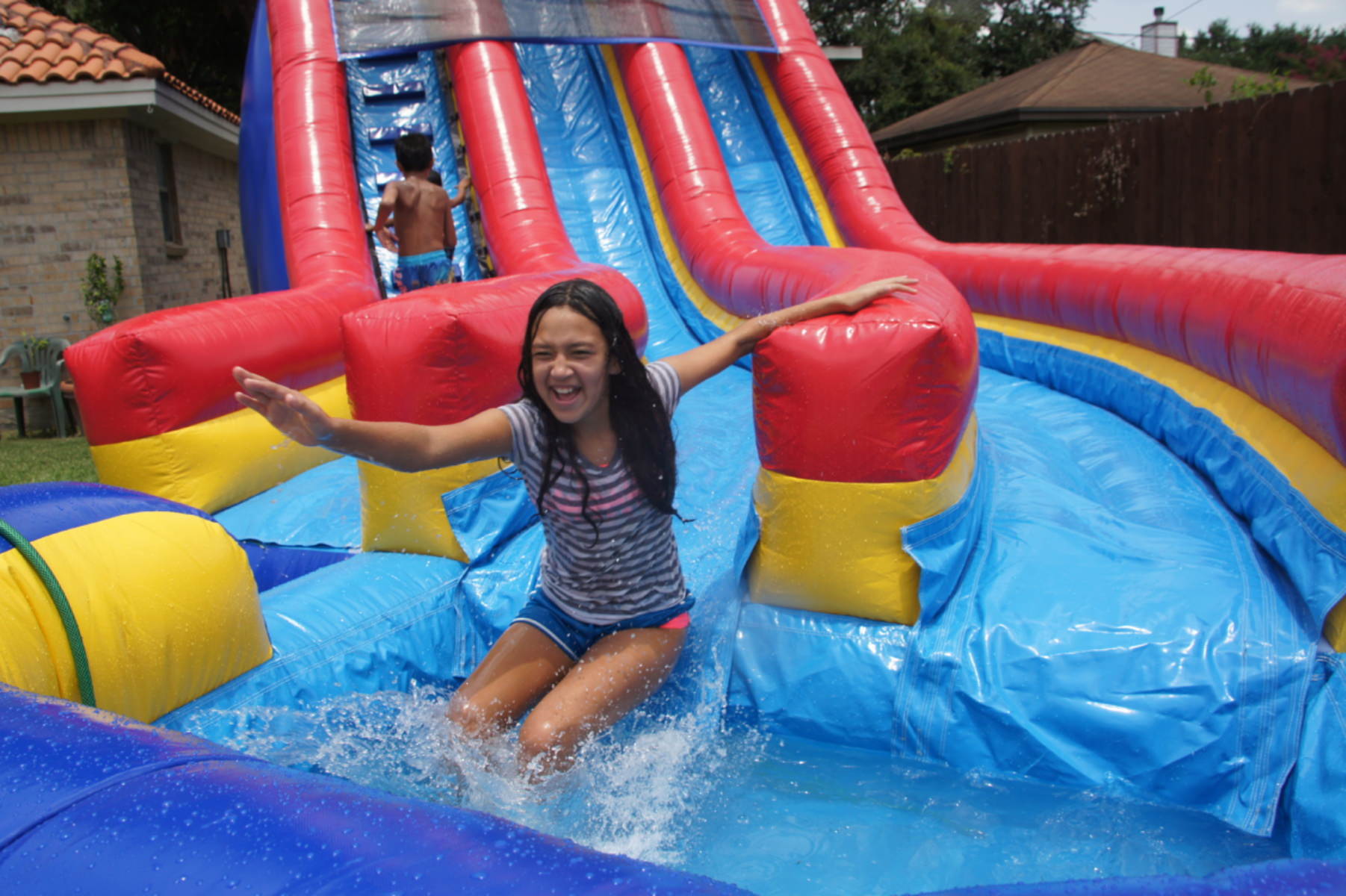 Calling all parents! Beat the heat this summer by turning your backyard into a Water Park! Why drive in this tedious Houston traffic when you can safely and comfortably host a water slide party in your backyard? We have presented 7 of our newest and most popular water slides that will have your kids loving life.
1. Tiki Falls Water Slide W/ Pool
Want to host a Luau themed party? Here's your chance! You wont need to pack your bags, this island getaway is available in your own backyard! Be the Big Kahuna this summer and cause a giant splash. The Tiki Falls water slide is perfect for any Luau, Hawaiian, Tropical, or even Disney's Moana themed events. Don't miss out on your chance to experience one of the largest water slides in Houston, Book Now!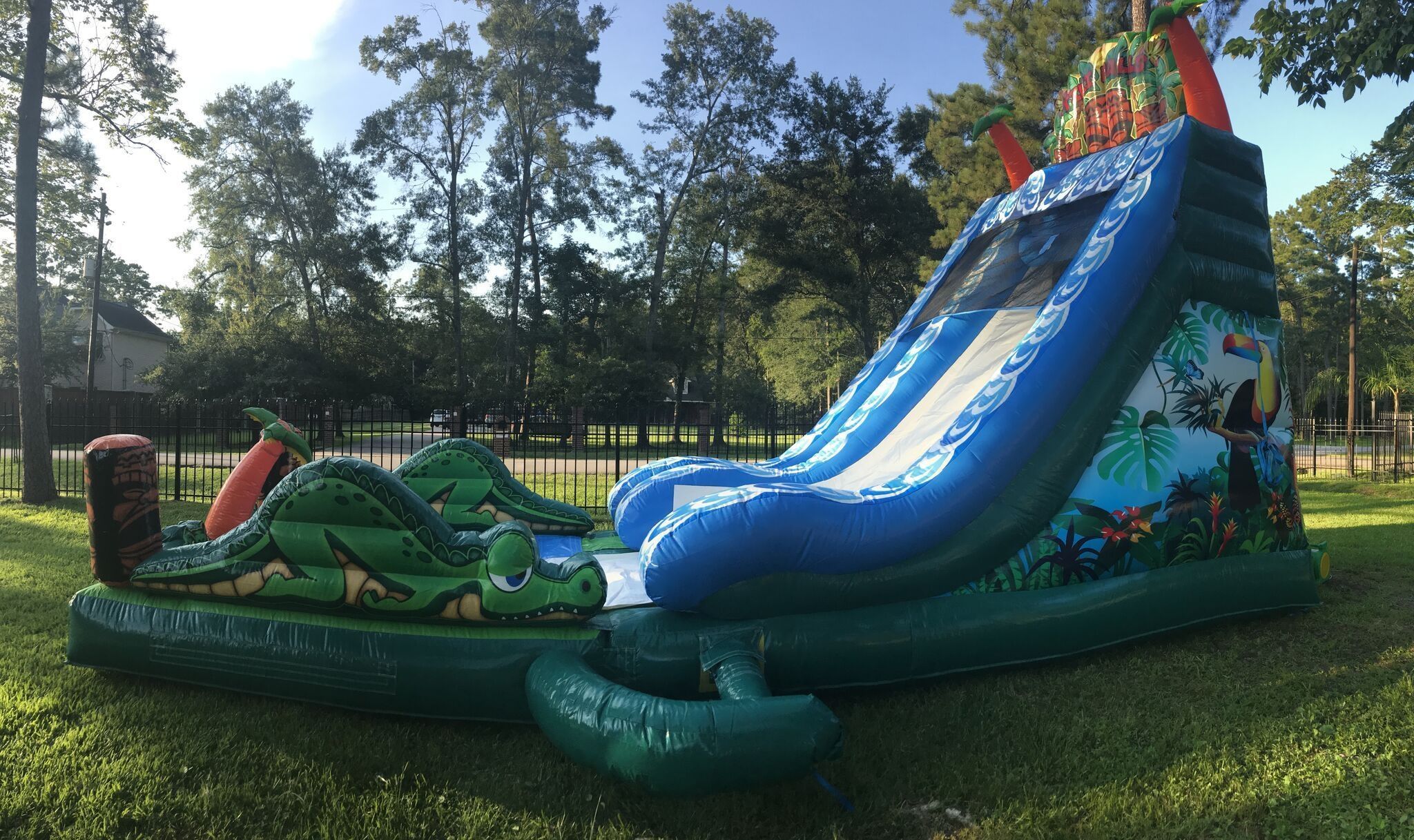 2. 18ft Lucha Libre Slide (Wet & Dry)
Wrestling fans everywhere will enjoy this 18' Lucha Libre Slide! This awesome inflatable slide will bring a distinct wrestling excitement to your party and is sure to amaze all of your family and friends. This fun water slide is shaped like a bright purple and yellow masked luchador. His muscular outstretched arms on either side keep you safe and sound as you zip down the wavy slide! The wrestler's hands hold a gold champion belt that encloses the super cool splash-zone pool. The Lucha Libre slide can also be used year-round as a dry slide, making it perfect for any occasion. This unique slide is great fun for all ages and is sure to be a winner at your next event!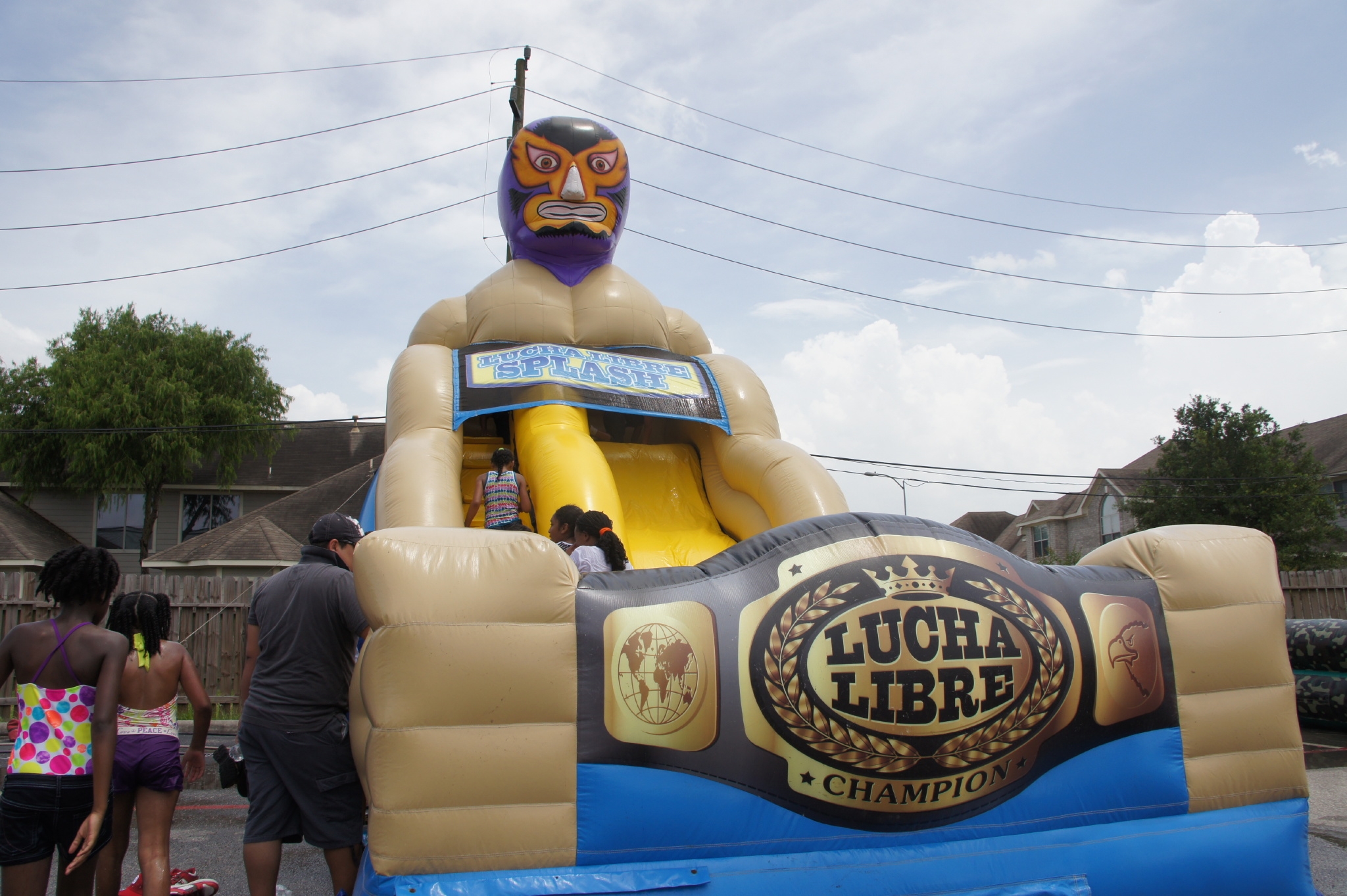 3. 18ft Sports Slide (Wet & Dry)
Score big with the kids at your next party! Guests will have a blast in the summer heat as they get soaked on the spectacular Sports Slide! Everyone will have a great time zooming their way down the 18' high slope and slipping around on the bouncy splash pad below. This inflatable is also just as much fun as a dry slide for indoor use or in cooler weather. This exhilarating ride will generate enthusiasm all around! Suitable for sports fans of every age. The unique design incorporates elements from four of the most popular sports -- baseball, basketball, football, and soccer -- to create an all-star environment that your party guests are sure to get a kick out of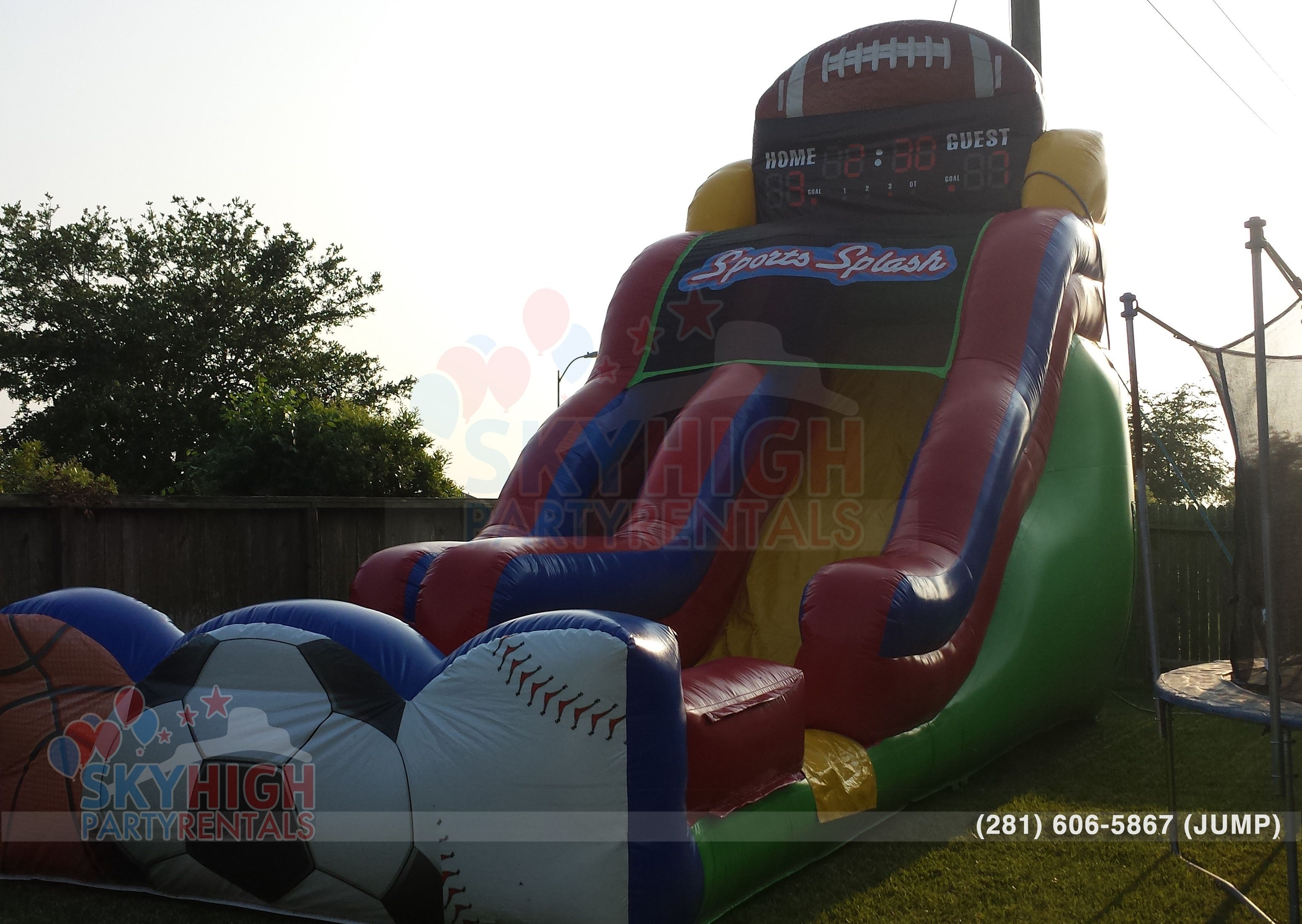 4. 20ft Palm Tree Screamer Slide
Get ready for the biggest water slide party ever! The 20ft high Palm Tree Screamer Slide will have you screaming with laughter all the way to it's jumbo sized pool. This inflatable is a favorite for Luau themed parties for kids parties and adults. That's right, adults can get in on the action too. Rest assured, we are ready to service your party with the most fun you've ever had.
5. Gone Fish'n Shark Wet/Dry Slide
Just in time for Shark Week and Shark lovers, this 20ft shark slide is the most massive wet water slide in our possession! Named the Gone Fish'n slide for a reason, you're not going to be able to reel in this catch! It is the perfect rental to make a big impression on guests of all ages. Certainly, riding through the belly of a shark will be a first for many. The only thing bigger than the jaws of the great white shark slide, are the smiles it will surely bring to any backyard party or large scale grand event. Your guests will plunge into the big blue splash zone at the bottom, and go home with a fish story of their own - watch as the tall tales are told in truth! With the thrilling Gone Fish'n Shark Slide, your party is going to be the hit of the season!
Who needs to wait around in line at a water park? Stay home and enjoy one of Houston's largest inflatable water slides! Standing at a HUGE 20 feet High, the Rainbow Screamer slide rewards anyone brave enough to climb to the top with an awesome drop followed by a long slip n slide. The Rainbow screamer slide is perfect for any summer event for boys or for girls, book now while you still can!
Get some HUGE AIR this summer on the Monster Splash Water slide! This 18ft slide is all primary colors which makes it perfect for any event, no matter the theme. Children of all ages will love this water slide for its built in hump at the end of the slide that will send them flying into the pool. At almost 50ft Long this slide is sure to be a hit, so book while you still can!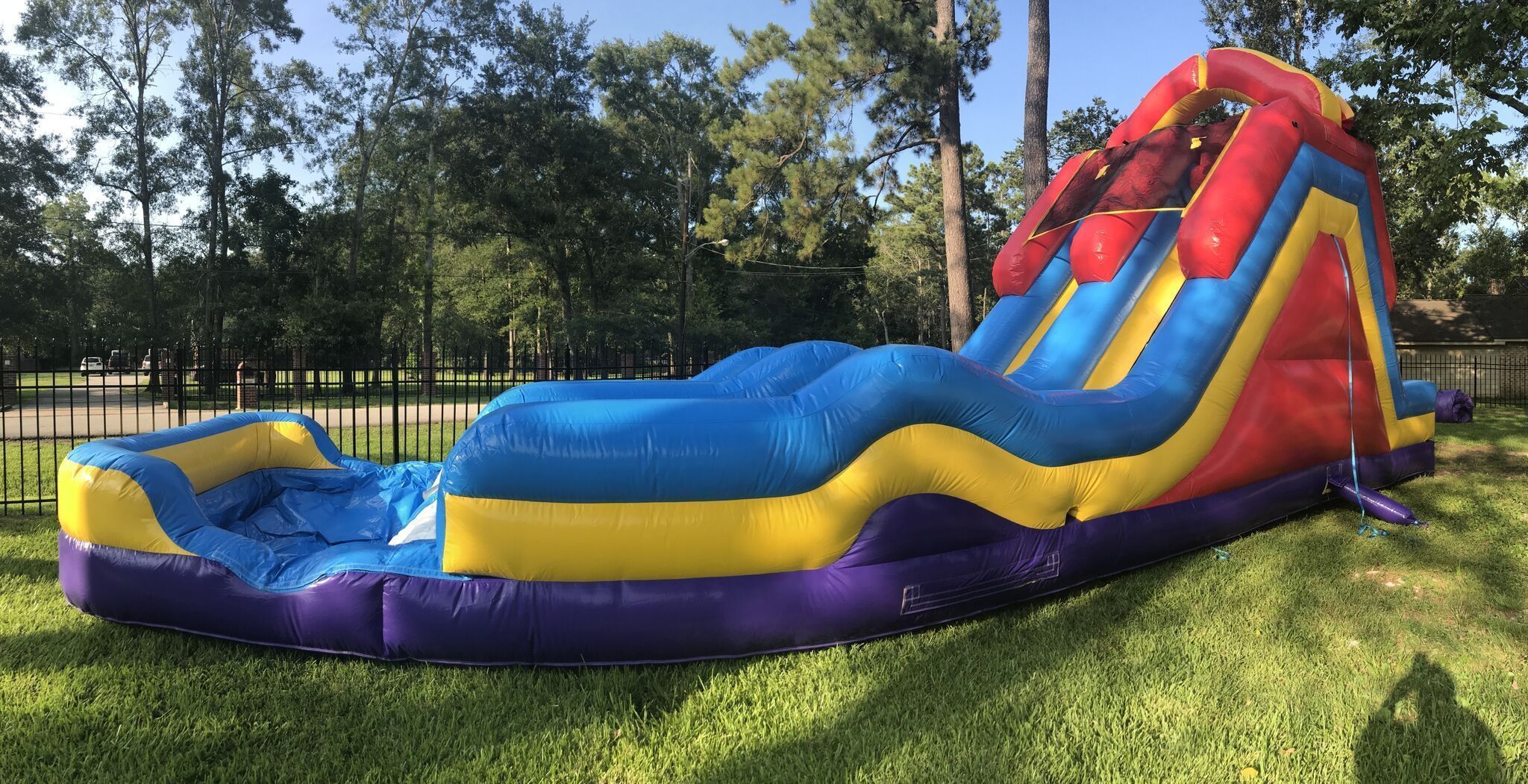 « Back